Glerárkirkja 20 ára - 05. desember 2012 - pb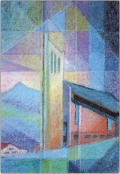 On the upcoming weekend, 7th to 9th of December 2012, the parish of Glerárkirkja in Akureyri, North-Iceland is celebrating the 20th anniversary of the church. As one of over 280 congregations around Iceland who belong to the Evangelical Lutheran Church of Iceland (ELCI), the members are happy to be able to celebrate by inviting to various events on the weekend. The variety is broad and everyone should be able to find an event that might fit to one's own interests. All parts of the programme are open for everyone. Please notice that all spoken words will be in Icelandic, but lyrics will be in different languages.
Friday, December 7th
08:00 pm – 11:00 pm: MUSIC + ART / COFFEE + CAKE
Opening of an exhibition of the works of Díana Bryndís, a student at the New York Institute of Photography.
Nice atmosphere created by the singers Jokka and Linda together with their pianist Reynir.
Cakes, coffee and diverse drinks served by the woman association "Baldursbrá" (On a payment of a small fee)
Saturday, December 8th
04:00 pm: MUSIC + LECTURE
Music: Cantor Valmar Väljaots together with the music teacher and singer Marína Ósk Þórólfsdóttir.
Lecture: Dr. Hjalti Hugason, a professor of church history at the University of Iceland. His lecture will give insights into the common road of the Nation and Christianity for thousand years.
Sunday, December 9th
11:00 am: SUNDAY SCHOOL
To celebrate the 20th anniversary of Glerárkirkja we invite children and parents to a special birthday-Sunday-school with a lot of songs, stories and a small play about a boy who really would like to become Santa Claus.
02:00 pm: SERVICE TO CELEBRATE THE 20TH ANNIVERSARY OF GLERÁRKIRKJA
Sermon: The bishop of ELCI, Agnes M. Sigurðardóttir.
Music: Glerárkirkja's choir together with soloists will perform the Coronation Mass composed in 1779 by Wolfgang Amadeus Mozart. Conductor: Valmar Väljaots.
08:00 pm: MOVIE NIGHT FOR THE YOUNGSTERS
All thirteen years old and older are invited to watch a movie (in English) and have some snacks and drinks on invitation.